TribeSound Records at the Grammys
As a voting member of the Recording Academy, TribeSound owner, Chris Cotter, has been trying to get tickets to attend the Grammys for the last 7 years. They often sell out within a few minutes of going on sale but this year Chris was ready, waiting to order his tickets at 10 am, the moment submissions opened. Maybe it was just luck that the year he finally was able to snag a ticket was the year that the Grammys came back to New York City. Madison Square Garden hosted the event for the first time since 2003.
As it turns out, the red carpet really is just for the nominated artists and celebrities as Chris and his date, Mimi Davis, entered the ceremony through the normal entrance and made their way to their seats, all the way at the very top of the audience. Whatever sour feelings they had about their seating were put into perspective when they met their seat neighbor, the sister of album-of-the-year nominee, Lorde. The high seats did allow them to see some backstage action and enjoy some of the live show production notes you don't catch on the TV broadcast,

"We're live in 5, 4, 3…"
The show opened with a jaw-dropping performance from Kendrick Lamar that weaved through songs from his rap album of the year winning project D.A.M.N. But Chris says that on top of all of the performances that became insta-popular there were great performances not featured on TV such as one from Celine Dion. Also, clips of old Grammy broadcasts were played during commercial breaks.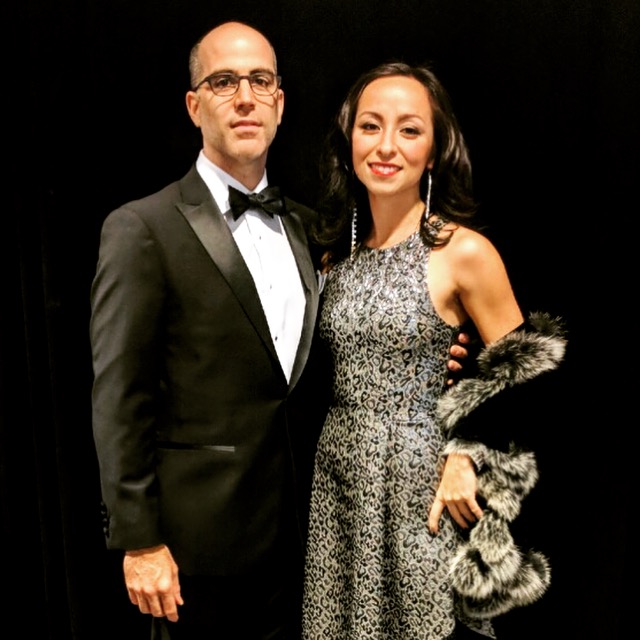 Philadelphia was proudly represented in the ceremony with several nominations and wins. The War on Drugs won Best Rock Album, Philly born composer, Benj Pasek, composed the original cast recording for "Dear Evan Hansen" which won Best Musical Theater Album, Jeff Lorber won Best Contemporary Instrumental Album with his project "Prototype", and The Crossing won Best Choral Performance for their production of Gavin Bryar's The Fifth Symphony. Also, P!nk, a Doylestown native, was nominated for Best Solo Performance and performed during the ceremony.
After the show wrapped Chris and Mimi made their way to the after-party at the NY Marriott Marquis and enjoyed the entertainment with fellow Philadelphia producer/engineer Phil Nicolo. The party featured several stages in different ballrooms throughout the hotel with a rotating set of DJs and bands. With a hotel room upstairs, it was easy to slip away once the party winded down.
We at TribeSound Records hope to one day work with an artist honored by a Grammy nomination but until then, it was fun getting a glimpse into the celebration of the music industry. We can't say for sure if Chris will be back next year but we do know that he will be waiting at 10 am on the day they become available again, poised to submit his ticket form.